2 Person Relay – Dec 13 | 7:30 am start
Due to its growing popularity, Santa to the Sea will again be offering our 2 Person Relay event. Teams are made up of 2 runners who will each run 6.55 miles of the half marathon course. The Half Marathon and 2 Person Relay share the same race route. First leg relay runners will tag in their partner at the mid-way point in Plaza Park, Downtown Oxnard. There will be timing mats in place at the Relay Hand Off Zone. Both Relay partners will have matching bib numbers so no need to exchange bibs, just a Hi-five and your off.
Registration for the Relay:
Each runner can register individually. The Team Captain registers first and creates a team when prompted to do so. (Don't forget to give your team a creative name). The second runner then registers and joins the team created by the captain. Teams are made up of 2 runners who will each run 6.55 miles of the half marathon course. Find team members within your office, school, running club, family or friends.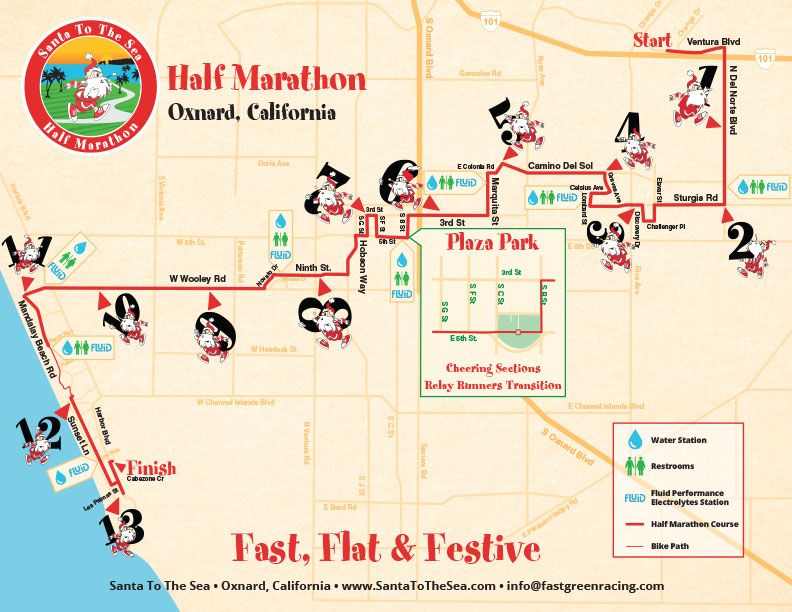 *Course is subject to change without notice
Aid Stations
There are 8 Aid Stations out on the Santa to the Sea course roughly 2 miles apart. Water will be provided at the Start Line and Finish Line as well.
Aid Stations will have water and Fluid Performance Sports Drink at every location.
Aid Station 4 (located at the halfway point-Plaza Park) will have Gels, and some sugary and salty snacks to munch on.
Awards
*For the 2-Person Rely top male, female, and coed teams will receive an award. 
Overall Awards are given to the Top 3 Male and Female Finishers in the Half Marathon and 5K only
Age Group awards are given in the Half Marathon, and 5K only.
All runners in the Half Marathon, 2-Person Relay, 5K, and Kids 1K will receive a collectible finisher's medal and t-shirt.
Age groups are:
14 and under, 15-19, 20-24, 25-29, 30-34, 35-39, 40-44, 45-49, 50-54, 55-59, 60-64, 65-69, 70-74, 75+
Check out our Costume Contest Awards!