December 1st - 13th
The goal is to offer a real, non virtual FREE event, that keeps everyone safe and spread out while still achieving Santa to the Sea's goal of providing an additional 80 college scholarships and generating enough toy donations to give every single needy child in our local community a toy for Christmas. Santa's Toy Run is how we do it!!
How it will work
In early December, the idea is you run/walk/skip/drive/fly or any other mode of transportation to your local toy store. Pick up a toy of at least $15.00 and run/bring it to one of our drop off locations (monetary donations will also be accepted).  Choose any distance you like. Share the experience with friends.
Locations and times are still being finalized, see below for current details.
After donating a toy, we will have a medal and bib waiting for you as a thank you for your generosity. You will receive a special commemorative 2020 Santa to the Sea medal and 2020 runners bib number. (limited to first 1000 runners to deliver a toy). Your participation will help make Christmas for some of our communities most needy, just a little brighter.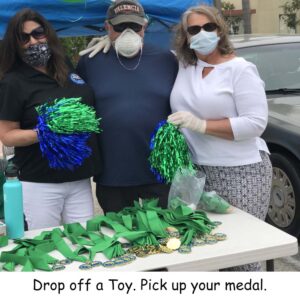 Drop Off Locations

Santa Statue- December 12th - 13th
Address: 2801 Ventura Blvd. Oxnard, CA 93036
Drop off times: 10am - 2pm

Mile 26 Running Co- December 1st - 11th
Address: 2222 E. Thompson Blvd. Ventura, CA 93001
Drop off times: During store hours
Future Track Running Co- December 1st - 11th
Address: 30125 Agoura Rd. Ste A, Agoura Hills, CA 91301
Drop off times: During store hours
A Runner's Circle / Hosted by We Fit Moms-  December 12th (Saturday Only)
Address: 3216 Los Feliz Blvd, Los Angeles, CA 90039
Drop off times: 10am to 2pm