5K – Dec 8 | 7:30 am Start
The Santa to the Sea 5K, is a flat and fast USATF certified course (CA12056RS). Many runners have established their personal record here, and continue to return. The 5K is also a great race for beginners. We see more first-timers every year, many of whom return to run the Half Marathon, or the Relay, in following years. Additionally, it's a perfect race for families of all ages to run together and celebrate a great accomplishment.
The 5K STARTS and FINISHES at Marine Emporium Landing (3600 S. Harbor Blvd., Oxnard CA 93035) in Channel Islands Harbor. The race course goes along Sunset Lane to Oxnard Beach Park then to Rehab Point, where runners turn around and head back to cheering crowds at the Finish Line.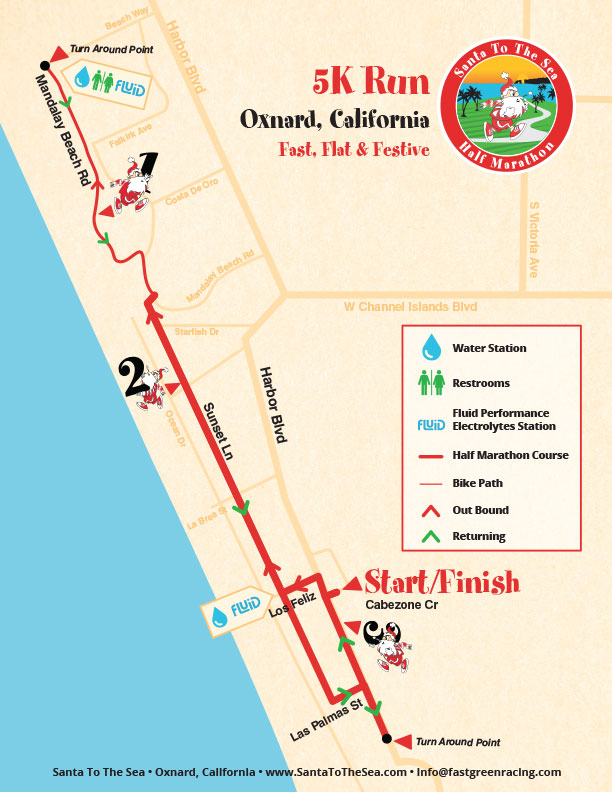 *Course is subject to change without notice
Aid Stations
There are 2 Aid Stations out on the Santa to the Sea 5K course. The first one comes at the turnaround point at mile 1.4, while the second Aid Station is slightly before mile 2.5 at Los Feliz and Sunset. Water will be provided at the Start Line/Finish Line as well (start and finish is the same location for the 5k)
Aid Stations will have water and Fluid Performance Sports Drink at every location.
Awards
Age Group awards are given in the Half Marathon, 2-Person Relay* and 5K only.
All runners in the Half Marathon, 2-Person Relay and 5K will receive a collectable finisher's medal and 
t-shirt. Overall top 3 men/women Half Marathon, 2-Person Relay and 5K winners will receive a collectible acrylic award presented at the Awards Ceremony.
*For the 2-Person Rely, $50 (2) gift cards for official Santa merchandise will be awarded to the top male, female, and coed teams. We will also give $500 to the fastest high school in Ventura County's running program!
Age groups are:
14 and under, 15-19, 20-24, 25-29, 30-34, 35-39, 40-44, 45-49, 50-54, 55-59, 60-64, 65-69, 70-74, 75+
Check out our Costume Contest Awards!
Restrooms
Restrooms will be located at the Start Line/Finish Line. Out on course restrooms will be located every Aid Station except the last one on Los Feliz and Sunset.