Half Marathon, Quarter Marathon & 2-Person Relay
Shuttles are available from 5:15 am. – 7:00 am
Arrive early and give yourself plenty of time.
Parking for the start of the Half Marathon, Quarter Marathon and 2-Person Relay is located at The Palms 2000-2201 Outlet Center Drive, Oxnard, 93036 along the 101 Freeway. Shuttles will in place to drop participates off at their start line.
**Important: There will be no shuttles taking runners from the finish line to your start line in the morning. You must park at the Palms Outlets if you expect to make it to your start on time.
Half Marathon and the First Leg Relay runners take the shuttles marked: Half Marathon/First Leg Relay Start Line. Your Start line is located at 2801 Ventura Blvd, Oxnard 93036 near the giant Santa.
If you are in the Quarter Marathon or the Second Leg Relay runner, take the shuttles marked: Quarter Marathon/2nd Leg Relay Start Line. These shuttles will take you to Plaza Park in Oxnard. Plaza Park is the Start Line for the Quarter Marathon as well as the Relay Hand off Zone.  After the First Leg Relay Runner finishes at Plaza Park, simply hop on the Shuttles Marked: First Leg Relay Runner Finish Line and head back to the Finish Festival and cheer on you partner!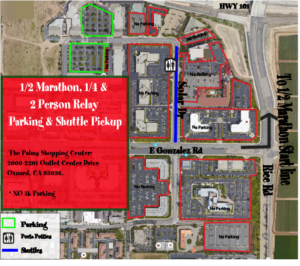 Dropping Off Runners- Half Marathon & Relay (First leg runners)
If you wish to drop off your loved ones, drop them off at the shuttle drop off area close to the start line. Exit Rice Rd. and head towards Ventura Blvd. Turn right on Ventura Blvd. Drop off anywhere along the curb before the road closure or turn into the first driveway. Watch out for shuttles dropping off other runners. Then head over to the finish line where there is plenty of parking.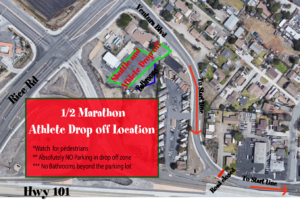 Return Shuttles-- Along Harbor Blvd. 9:00 am – 1:00 pm
After you have finished running and enjoyed all the festivities at the finish line. Shuttles will be available to take you back to the Palms Outlets where you parked earlier in the morning.
5K | Kids 1k | Finish Line | Festivities
Parking for the start of the 5K, Finish Line, Kid's Events and Expo is located at the Marine Emporium Landing, 3600 S Harbor Blvd. Oxnard, 93035.
**Important: There are no shuttles taking 5k runners from the Palms Shopping center to the 5k start in the morning. 5k'ers must park at Marine Emporium Landing if you expect to make it to your start on time.